Inclination sensors

Non-contact inclination measurement with precision.
Inclination sensors take a non-contact measurement of the inclination angle of an object in relation to the earth's gravity. Thanks to the use of capacitive MEMS technology, inclination sensors are both highly precise and extremely reliable. One-dimensional sensors measure the inclination of an axis to 360°, whereas two-dimensional sensors are able to measure two axes simultaneously to ±90°.
3 results:
View:

View Gallery

View List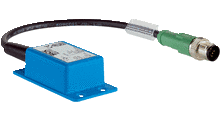 Small, light, and rugged.
Compact, two-dimensional inclination sensor
Fixed measuring ranges: ±10°, ±45°, ±60°
Analog current or voltage interface
Resolution as low as 0.01°
Small and easy-to-mount ABS plastic housing
Protection class up to IP 67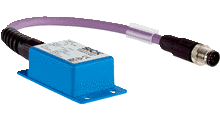 Precise inclination measurement in a compact design
Compact inclination sensor with measuring range of 360° (single-axis) or ±90° (dual-axis)
Compensated cross sensitivity and configurable vibration suppression
Convenient CANopen interface
UV-resistant, impact-proof plastic housing
High resolution (0.01°) and accuracy (±0.1° typ.)
Programmable with the PGT-12-Pro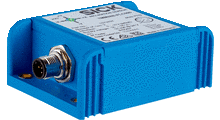 High-precision inclination measurement for harsh ambient conditions.
Inclination sensor with measuring range of 360° (single-axis) or ±90° (dual-axis)
Compensated cross sensitivity and configurable vibration suppression
Freely configurable current or voltage interface or convenient CANopen interface
Accuracy up to ±0.02°
Plastic or aluminum housing
Programmable with the PGT-12-Pro
TOP