CEMS solutions
MARSIC280
Your Benefits
Up to 2 measurement points with only one measuring device
High levels of availability and reliability
Modules can be exchanged easily
Low costs thanks to minimal maintenance requirements
Extensive network for service support
Quick access to expert support with remote maintenance
Safe investment: also equipped for new requirements on emission monitoring on ships
Saves space and costs for spare parts storage by using the same units as the MARSIC300

Overview
The MARSIC280 from SICK is a cost-optimized solution for reliably measuring emissions on ships according to MARPOL Annex VI and IMO MEPC. MARSIC280 is designed for measurement of SO2 and CO2 downstream of the scrubber. Classification organizations have type-approved the measuring device for this application.
With the MARSIC280, SICK, an experienced manufacturer of maritime emission measurement technology, has created a solution based on many years of practical experience. It impresses thanks to its simple mounting and minimal maintenance requirements. Modules can be easily exchanged due to a replacement concept. Thanks to the use of standardized units, for example from the MARSIC300, the MARSIC280 offers flexibility and reduces the need for spare parts storage.
At a glance
Rugged design and high level of measurement accuracy
Type-approved by classification organizations in accordance with MARPOL Annex VI and IMO MEPC
Designed for SO2 and CO2 measurement downstream of the scrubber
Use of field-tested MARSIC300 components
Advantages
Intelligent solutions for the shipping industry
As one of the market leaders in onshore emissions measurement technology, SICK has decades of experience in the development of gas analyzers s and emissions measurement. In addition, SICK offers a comprehensive portfolio of on-board measurement systems and has many years of experience in maritime applications. The MARSIC280 ship emission measuring device therefore consists of repeatedly proven technology, which has demonstrated its quality and reliability all over the world. SICK now has one of the largest numbers of ship emissions measuring devices installed worldwide and has established itself as one of the leading manufacturers in the area of maritime emission control.

For clean air on the high seas
MARSIC280 measures CO2 emissions from combustion processes and ship engines. The sensors from SICK send the measured values from on board directly to the cloud and show the corresponding data, e.g. energy efficiency, in a transparent manner. With the MARSIC280, the ship emission measuring device from SICK, you can sail across all seas with DNV certification, safe in the knowledge that the measured values are reliably accessible in maritime emission control areas. You can also rest assured that device maintenance and calibration costs will stay low in the long term.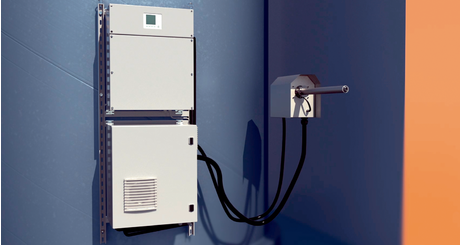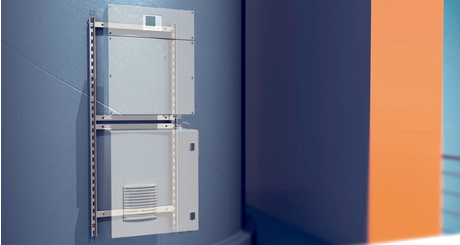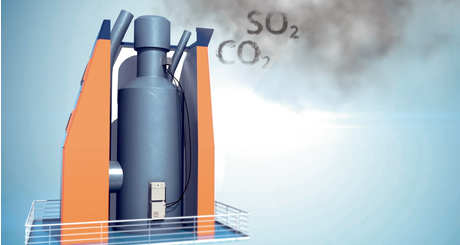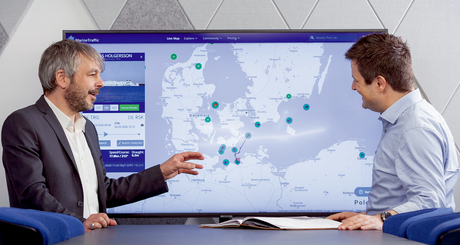 Always on a safe course with the right service
With its worldwide network of employees, SICK makes sure that services and spare parts are available. To satisfy its global demand, SICK has established several maritime service hubs to coordinate and actively support its worldwide service activities. In addition, training centers enable the company to pass on its detailed knowledge about the products and their peripherals to customers. Qualified staff from SICK and its partners are ready to serve you along the main global shipping routes. The staff provides technical support, solves problems, helps with preventive maintenance and provides other services for measurement technology.
MARITIME SERVICES from SICK – on site where you need us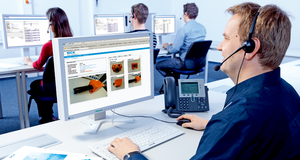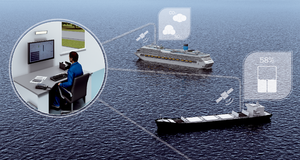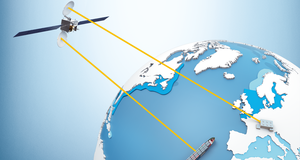 All-round service for high availability of your measuring equipment
MARSIC280 system

MARSIC280 system

Measured values
CO2, SO2
Measurement principles
NDIR spectroscopy, NDUV spectroscopy

| | |
| --- | --- |
| Sample quantity | |
| | 80 l/h ... 120 l/h |

| | |
| --- | --- |
| Measuring ranges | |
| CO2 | 0 ... 25 Vol.-% |
| SO2 | 0 ... 100 ppm / 0 ... 500 ppm |

Response time (t90)
15 s ... 30 s
Including sample gas path and gas sampling unit

Accuracy
± 1 %
Of measuring range full scale

| | |
| --- | --- |
| Sensitivity drift | |
| | < 2 %: of measuring range full scale per week |

| | |
| --- | --- |
| Zero point drift | |
| | < 2 %: of measuring range full scale per week |

| | |
| --- | --- |
| Reference point drift | |
| | < 2 %: of measuring range full scale per week |

| | |
| --- | --- |
| Process temperature | |
| | +10 °C ... +550 °C |

Process pressure
–200 hPa ... 200 hPa
Relative

| | |
| --- | --- |
| Ambient temperature | |
| | +5 °C ... +45 °C |

| | |
| --- | --- |
| Storage temperature | |
| | –20 °C ... +70 °C |

| | |
| --- | --- |
| Ambient pressure | |
| | 900 hPa ... 1,100 hPa |

Ambient humidity
≤ 90 %
Non-condensing

Conformities

MARPOL Annex VI and NTC 2008 – MEPC.177(58)

Guidelines for exhaust gas cleaning systems – MEPC.259(68)

Guidelines for exhaust gas cleaning systems – MEPC.340(77)

DNV GL Rules for Type Approvals (DNVGL-CG-0339)

Electrical safety
CE, Rules of major classification societies
Analog outputs
8 outputs:
0 ... 24 mA
Electrically isolated
Analog inputs
2 inputs:
0 ... 20 mA
Digital outputs
16 outputs:
Changeover switch, 1-pin, 3 connections
Digital inputs
8 inputs:
42 V

| | |
| --- | --- |
| Modbus | ✔ |
| Type of fieldbus integration | TCP |

| | |
| --- | --- |
| Ethernet | ✔ |
| Function | Connection to OPC server |

| | |
| --- | --- |
| Indication | |
| | LC display |
| | Status LEDs: "Power", "Maintenance request" and "Fault" |

| | |
| --- | --- |
| Dimensions (W x H x D) | |
| | 680 mm x 1,723 mm x 477 mm (for details see dimensional drawings) |

| | |
| --- | --- |
| Weight | |
| Analyzer unit | 37 kg |
| Sample handling and distributor unit | 52 kg |
| Complete system on mounting frame | 110 kg |

Material in contact with media
PTFE, PVDF, FKM, stainless steel 1.4547, Hastelloy, platinum, nickel, Aluminum, Calcium fluoride
Mounting
Wall-mounting

Power supply
Voltage
115 V AC, ± 10 %
230 V AC, ± 10 %
400 V AC, ± 10 %
Voltage
Can be connected to typical voltage supplies
Frequency
50 Hz / 60 Hz
Current consumption
At 230 V AC: ≤ 8 A
Without sample gas line and filter element
Power consumption
Analyzer unit: ≤ 300 VA
Sample handling and distributor unit: ≤ 300 VA
Sample gas line, heated: ≤ 95 VA/m
Gas sampling unit: ≤ 450 VA
Heated gas sampling pipe: ≤ 450 VA

| | |
| --- | --- |
| Sample gas connections | |
| | Clamping ring fitting for 6 mm pipes |

| | |
| --- | --- |
| Auxiliary gas connections | |
| Instrument air | Hose connector DN 4/6 |
| Test gas | Hose connector DN 4/6 |

Corrective functions
Automated zero point adjustment with N2 or instrument air, weekly
System components

Gas sampling unit, heated, including filter housing

Sample gas line, heated (max. 35 m)

Sample handling and distributor unit

Analyzer unit

Integrated components

Sample gas pump

Pressure sensor

Flow sensor
All technical data can be found accompanying the individual product